2022 CMN Hospitals Virtual Partner Summit

Thanks to everyone who was able to join us for the 2022 virtual CMN Hospitals Partner Summit!
If you were unable to participate, you can watch the summit in its entirety in the video player above.
Our annual CMN Hospitals Partner Summit is a unique opportunity for us to recognize the incredible impact you are making in the lives of so many families across our region, and to talk about what's new at Seattle Children's.
This year, we also talked about the closing of It Starts with Yes: The Campaign for Seattle Children's. In 2011, Seattle Children's launched the Yes campaign because, with your partnership, we knew we could transform childhood health and change the odds for all kid-kind. Over the last decade, your giving paved the way for medical advances and growth we could only dream about at the start of this campaign. Our generous community came together like never before and contributed $1.4 billion over 11 years to support lifesaving care and research, far surpassing our original goal of $1 billion.
Equally exciting is the result of our CMN Hospitals partners' fundraising during that time – more than $46 million!! All to help fund exciting new research discoveries, expand clinical programs and to make lifesaving pediatric care accessible to more families!
Your giving is changing the odds for kids and will advance our mission for generations to come.
We want to acknowledge the collective impact that ALL of you, our CMNH partner community, has had on Seattle Children's throughout 2021 and we want to celebrate some very special award winners.
Newest CMN Hospitals Partner: Anthropologie
Each year we recognize our newest CMN Hospitals partner, and for 2021 that award went to Anthropologie!
Our three Anthropologie locations started with a Holiday fundraising campaign in December. We are thrilled to welcome them to our family of amazing supporters – we look forward to working with you for many years to come – thank you Anthropologie!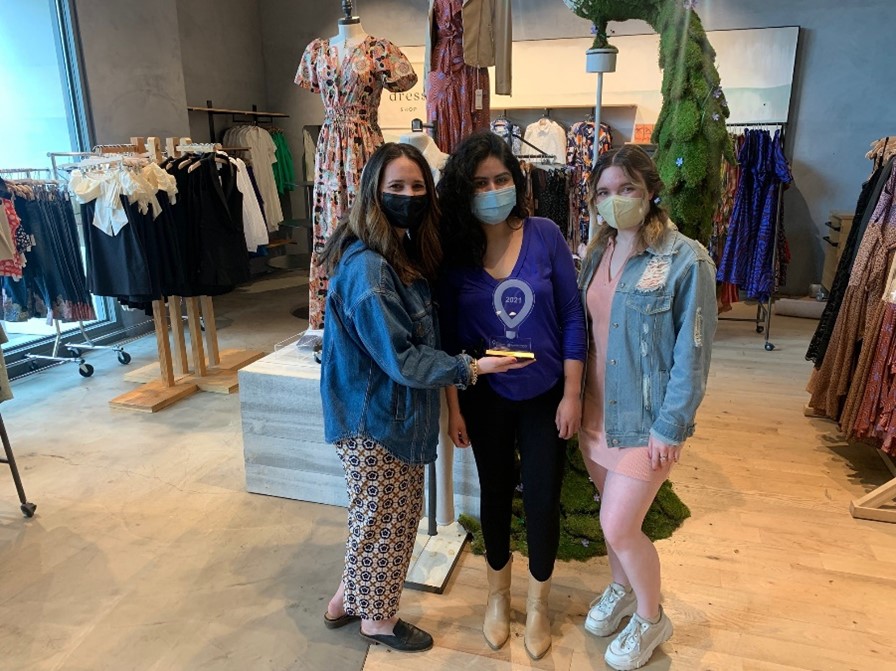 Highest Percentage Increase: Chevron
We also recognized the partner who had the highest year over year percentage increase. For 2021, that partner – with a nearly 3,000% increase – was Chevron!
Since 2002, Chevron has supported CMN Hospitals in California, Oregon, and Washington through Miracle Balloon Campaigns, grassroots fundraising events, and other programs. Last year, they also started offering their customers the option to round up their purchase and donate the change to Seattle Children's. Thanks to our 13 Puget Sound Area Corporate owned locations who support us!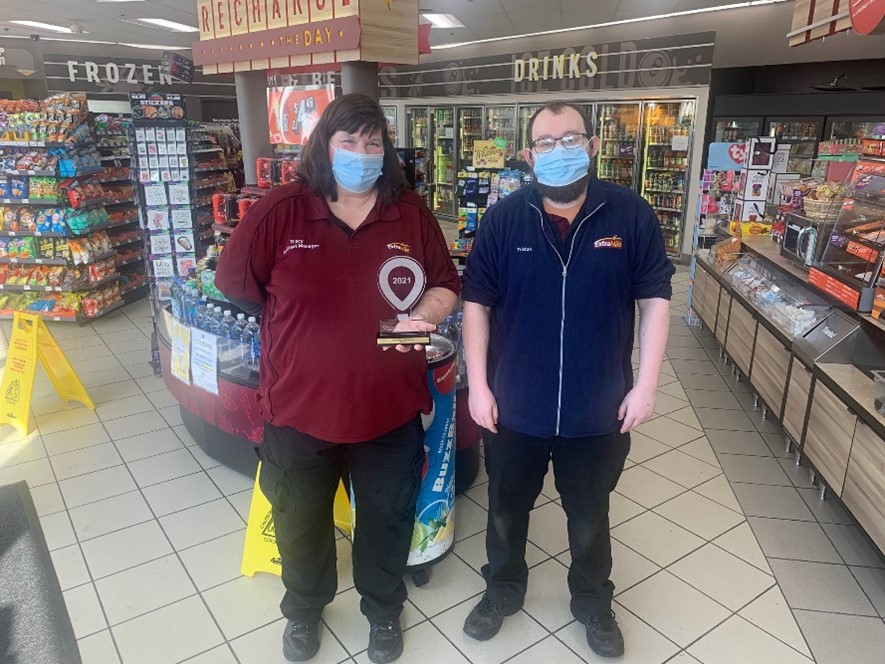 #3 Top Fundraising Partner: Panda Express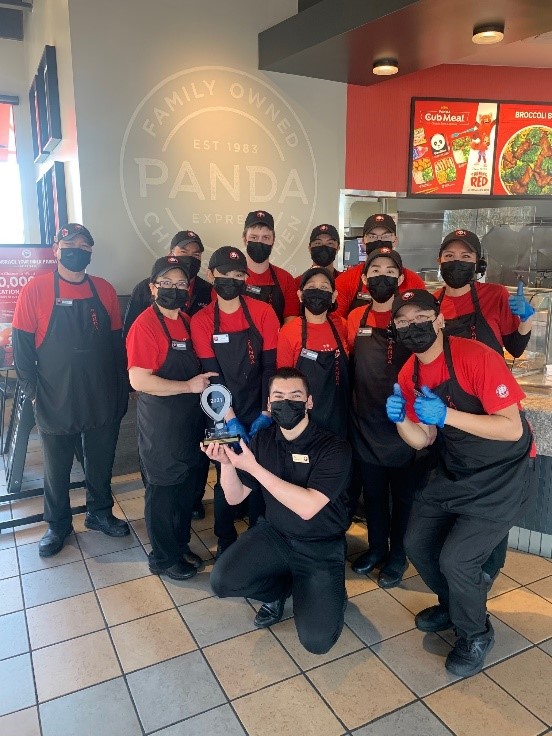 In third place for 2021 raising over $414,000 is Panda Express! Not only did Panda Express make the top 3 in local corporate fundraising for Seattle Children's, they also established the Panda Cares Center of Hope with a $3 million dollar 10-year commitment to support our Child Life and Health and Safety programs here at Children's.
With 42 locations in our Puget Sound area, Panda Express raises funds year-round through employee giving and by asking guests to round up their purchase. Such an easy and effective way to raise funds and make a big difference!
Many patients and families now and in the future will benefit from the generosity of our local Panda Express Associates and their guests. Thank you Panda Express for your continued commitment to kids at Seattle Children's!
#2 Top Fundraising Partner: Ace Hardware
Ace Hardware raised over a half a million dollars in 2021 – up 56% from their previous year – landing them in second place!
The biggest game changer for Ace Hardware in 2021 was the commitment from a small group of retailers to keep their round up active throughout the entire year. Round up is an easy and effective way for customers to give small change from their pocket that adds up to big change at Seattle Children's.
A special shout-out goes to Christine and Greg Egelstad, Randall Burgess, Prudence Swann, Chantelle Burris, Brandon Wright, Diane Ellingson, Gordy Gaub, Joseph Jeffries, Scott McLendon, Rick Hlas, Guy Kamitaki, Tyler Myers, and Stephan and Carrisa Welch. Together, these retailers own 24 stores and raised a total of $439,000 – 78% of the total fundraised by all stores!
In total, 80 stores raised money for Seattle Children's in 2021 and each one, each dollar, helps provide lifesaving care and research. Thank you to ALL our Ace Hardware owners, managers, and team members for your continued commitment to kids at Seattle Children's!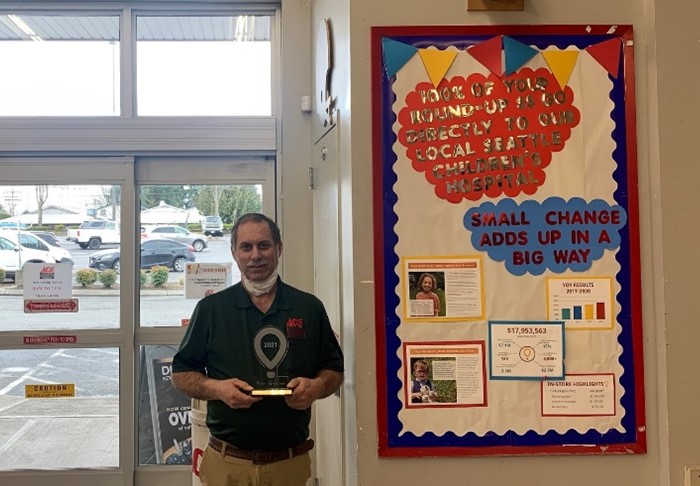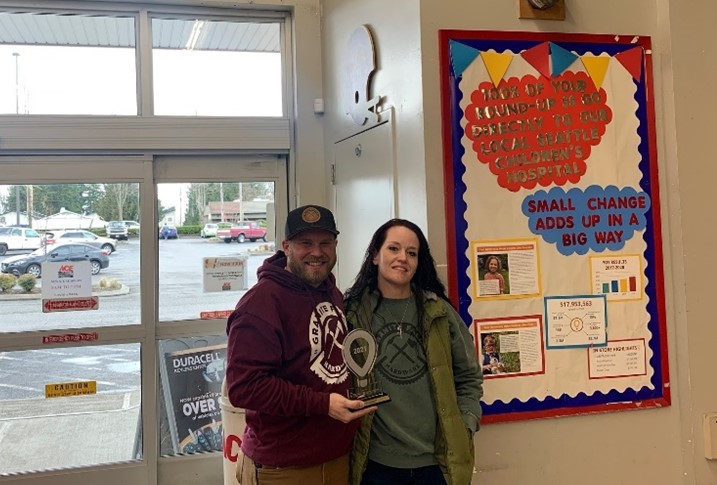 #1 Top Fundraising Partner: Costco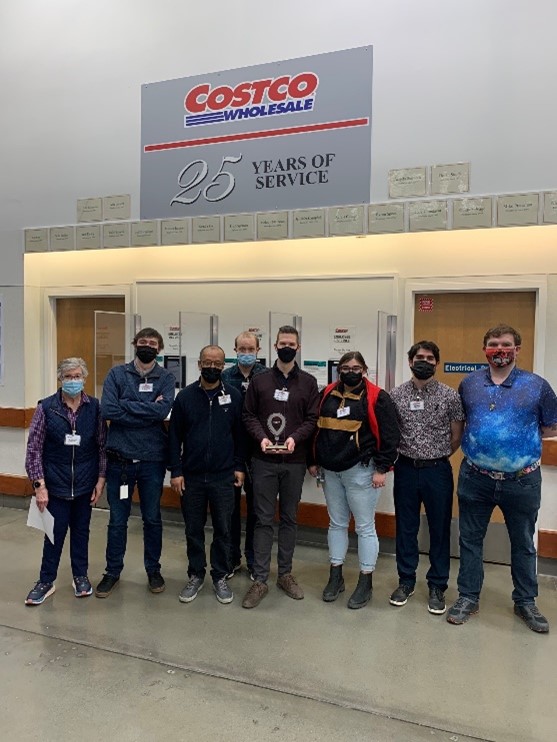 In first place for 2021, raising more than $2 million, is Costco!
Costco has been supporting Seattle Children's for more than 35 years and we couldn't be more grateful for this steadfast partnership. Costco dedicates the month of May to CMN Hospitals by asking each member to donate at the cash register. They also sell $500 "Jumbo Balloons" to local businesses as a marketing and fundraising effort. The Jumbo Balloons are then displayed with the business name printed on them. In 2021, the Issaquah warehouse had the highest fundraising total, bringing in an astounding $130,557!
Special thanks to Sue McConnagha, Kelly Fagan and Brooke Perry from the Costco Home Office who help make the Costco Fundraising Campaign happen each year for all CMN Hospitals across North America! Congratulations Costco, we are so grateful for your many years of support and your deep commitment to children.
Hope Award: Love's Travel Stops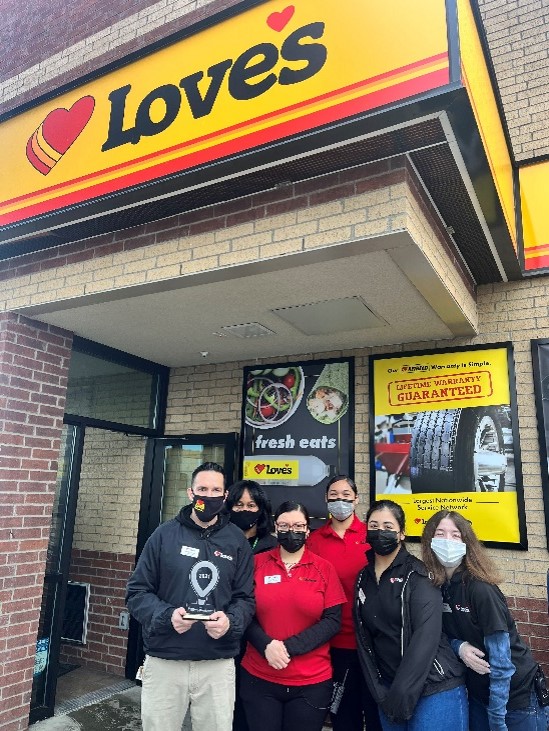 This year, the Hope award went to Love's Travel Stop!
Love's has two locations – one in Fife at the Port of Tacoma and one just off I-5 in Napavine – that raised more than $32,000 in 2021.
They started early in the year by adding a round up campaign to raise funds while combating the national coin shortage so many stores were facing. Team members also got creative during their annual miracle balloon campaign by hosting a drawing with some amazing prizes which incentivized even more customers to donate. Then, just as we thought the fundraising was coming to a close at the end of September, our friends at Love's rallied once more and announced another round up campaign that would last through the end of the year.
When a sick or injured child needs treatment at Seattle Children's, parents have many concerns. But thanks to the efforts of partners like Love's, they won't need to worry about the quality of their child's care – or their ability to pay. Thank you, Love's, for your commitment to bring HOPE to families at Seattle Children's! Your giving brings healing to children and peace of mind to their families.
Care Award: Wizards of the Coast
Our 2021 Care award went to Wizards of the Coast!
Since 2015, Renton-based Wizards of the Coast, a family of studios specializing in role playing, trading card and digital games, has partnered with Extra Life, an annual CMN Hospitals fundraising event for gamers, to raise money for Seattle Children's Autism Center.
They do this in a very CARING way – by highlighting the uniqueness and creativity of the talented children at our Autism Center. Kids at the center were asked to draw their take on iconic Magic the Gathering creatures. Their artwork was handed over to Wizards' all-star artists to bring those drawings further to life as a trading card set called Secret Lair. Every Secret Lair: Extra Life 2021 set included two copies of each card – one with the children's art, and the other with the professional artist's interpretation and was sold as a special edition.
Thank you so much to all our friends at Wizards of the Coast for not only finding a new way to raise funds but for including the talent of our patients in the process! Secret Lair: Extra Life 2022 cards are in the works now and are scheduled to drop in November of this year.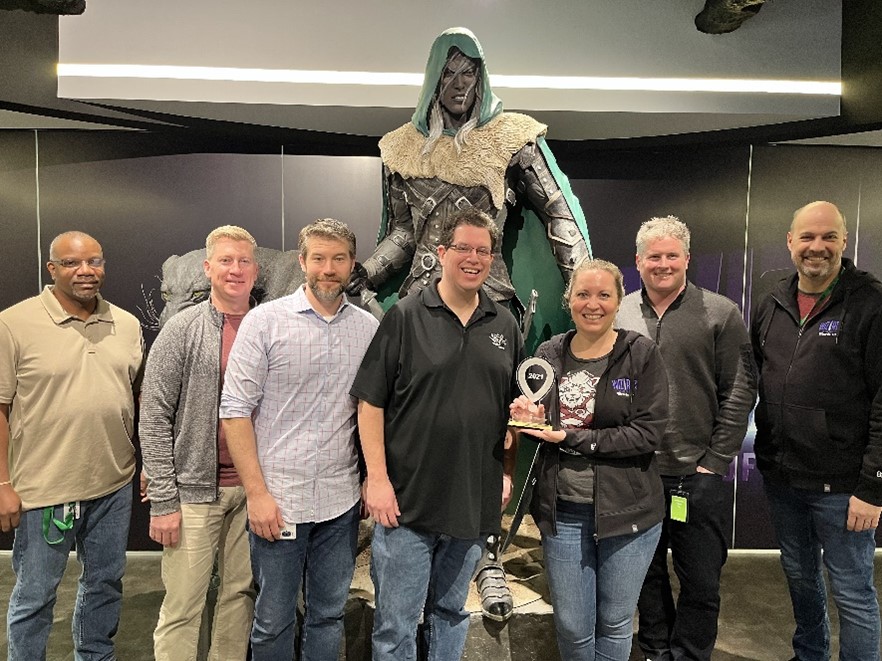 Cure Award: Kiwanis Children's Cancer Program – Seattle
The 2021 Cure award went to the Kiwanis Children's Cancer Program – Seattle!
KCCP-Seattle is a part of the Pacific Northwest District of Kiwanis International. This dedicated and feisty group of Kiwanians are committed to finding a cure for children's cancer through the funding of Pediatric Hematology and Oncology Fellowships, empowering some of the brightest minds in medicine to advance treatments and work to end childhood cancer. In addition to bringing in these critical funds, KCCP-Seattle helps educate their community on the critical role Seattle Children's research is playing in finding a CURE. Thank you to all of our dear friends at Kiwanis International for your leadership and passion. We can imagine a world without childhood cancer, and we look forward to seeing you there!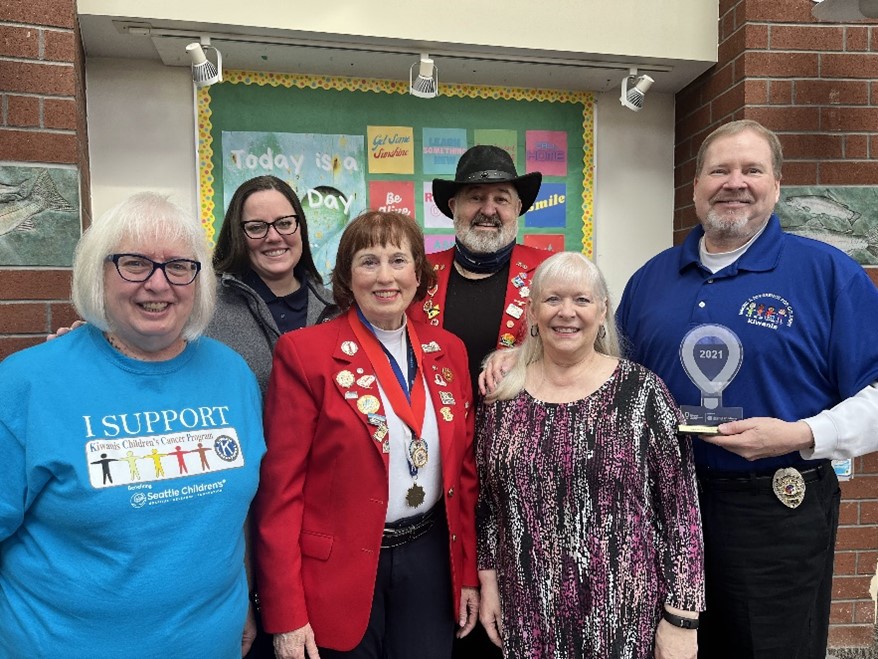 Thank you and congratulations to this year's award winners and to ALL of our partners for your fundraising success in 2021!