Announcing our Newest Angels in Action Award Recipient
Every quarter, the Extra Life team honors a remarkable community volunteer with the Angel in Action Award. We're thrilled to say congratulations to our newest Angels in Action, Greg Harris-Jones! Multiple Extra Lifers wrote in to nominate Greg, who is highly involved with the Boston Guild in support of Boston Children's Hospital. After receiving multiple nominations from his fellow Extra Lifers, it was incredibly clear that Greg deserved this award for his tireless work to help heal kids through the power of gaming and for his amazing capacity to bring joy to those around him.
Remarkable Recruitment
One of Greg's superpowers is his ability to recruit new supporters into the Extra Life family. Nothing quite exemplifies this as much as his work at the recent PAX East event in Boston. As one of Greg's nominators, Shawn Todd, explained, "Greg led a team of seasoned and some new Guild members to an all-time record amount of recruiting sign-ups for PAX East; a whopping 1082 sign-ups, shattering the previous year's 557!" Not only did the Boston Guild's recruitment at PAX East obliterate records for previous recruitment at that specific event, it also exceeded recruiting totals from any Extra Life community event in the past two years!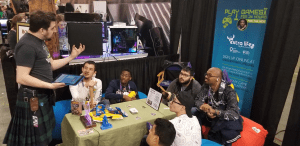 Greg helps prepare the Boston Guild to break recruiting records for Extra Life at PAX East.
Nikki Benoit, Boston Children's Hospital's local Special Events Coordinator, assures us that Greg's amazing dedication to recruitment extends far beyond any single event. He displays this dedication every time he attends any event. "Greg takes his job very seriously. He often has to be coerced to leave the booth to even get fuel or use the restroom – he hates the idea of missing even one potential new recruit!"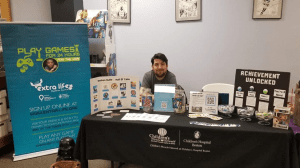 Greg volunteers at diverse recruitment events any time he can.
Supporting "n00bs"
Greg is lovingly called the "Newbie Herder" by his fellow Boston Guild members because of his passion for nurturing new Extra Life recruits to success. Angela DiMare-Messier, another nominator, explained, "we created [the position] partly out of necessity and partly because Greg showed us that we needed it! Without any sort of title or official nomination, and without any expectation of reward, Greg would regularly dedicate entire weekends to events to be able to help guide and nurture our new recruits. He is always first to offer help and experience when they need it."
Nikki echoed Angela's sentiment. "He's a natural at authentically connecting with others and helping people understand how they could fit with Extra Life; why they personally should get involved. He is generous with his expertise and often took new Extra Life Boston Guild members under his wing, helping them with their own pitches."
Spreading Joy
Greg's positivity and humility has not gone unnoticed. "You almost never catch Greg without a smile on his face," Nikki explained.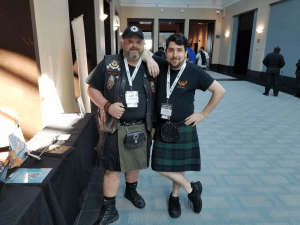 Raising awareness is always more fun if you're also in kilts.
Angela also recognized Greg's joy, passion and commitment. "This work is really important to him and he's passionate about the recruitment we do…. His Extra Life work means the world to him and he's an inspiration to everyone else in the Boston Guild for his passion and commitment."
Congrats Greg! Your hard work has not gone unnoticed and we are so honored to bestow this Angels in Action Award your way.