BBCH Extra Life HERO: Meet DragynsLair!
It's no secret that I love our Extra Life program at BBCH, but it's mostly because of the people. Our Extra Lifers are awesome! I'd like to introduce another one of our amazing gaming community members making a big difference for the patients, families, and care teams at The Barbara Bush Children's Hospital (BBCH)! – Meaghan
Meet DragynsLair!
DragynsLair's pronouns are they/them.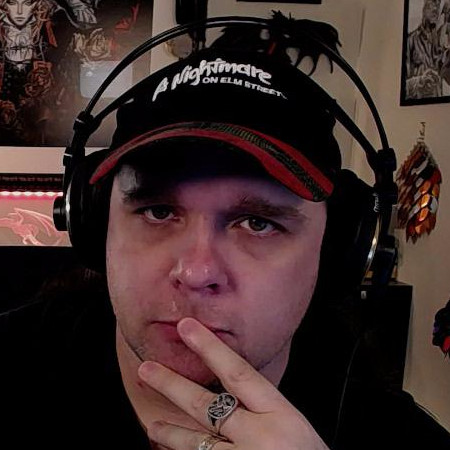 Find DragynsLair on…
Let's start with an easy question, first- what are your favorite games to play?
If I'm in a solo kind of mood anything with a good story. When playing with others I tend to like MMOs or Survival games. Things that involved teamwork, engagement and silliness.
And then I always like to ask- how long have you been gaming, and how did you find Extra Life?
I've been gaming since I was in Kindergarten. I found Extra Life through some friends while I was streaming on Beam/Mixer.
RIP Mixer! And how long have you been participating in Extra Life?
Five years: 2017, 2018, 2019, 2021 and 2022. I took 2020 off because I felt uncomfortable asking the community for money when I knew all of them were struggling. I played for Connecticut Children's Medical Center for the first couple of years, before switching to The Barbara Bush Children's Hospital when I moved to Maine.
You're well on your way to meeting your fundraising goal for this year!
Since I started, I've raised around $9,000 for Extra Life. This year so far, I've raised $1,843 of my $3,000 goal. If we hit the goal for this year, we also hit $10k over the course of the ExtraLife 'career.' (editors note: Woot! $10k will earn you the awesome new Extra Life challenge coin, too!)
Okay, of course I'm going to ask you about incentives, because I stopped by your stream and was blown away by the AMAZING scalemail you create, inscribing scales with a donor's name, and then adding them to the piece…
The scalemail piece you saw on stream is forever in process… at least the one you saw that night. It represents about $6,000 earned, over five Extra Life events, across three platforms (Mixer, Trovo and Twitch), for two hospitals (CCMC and BBCH). I also tend to offer donation matches, but I don't get my own scales on the cloth. 🙂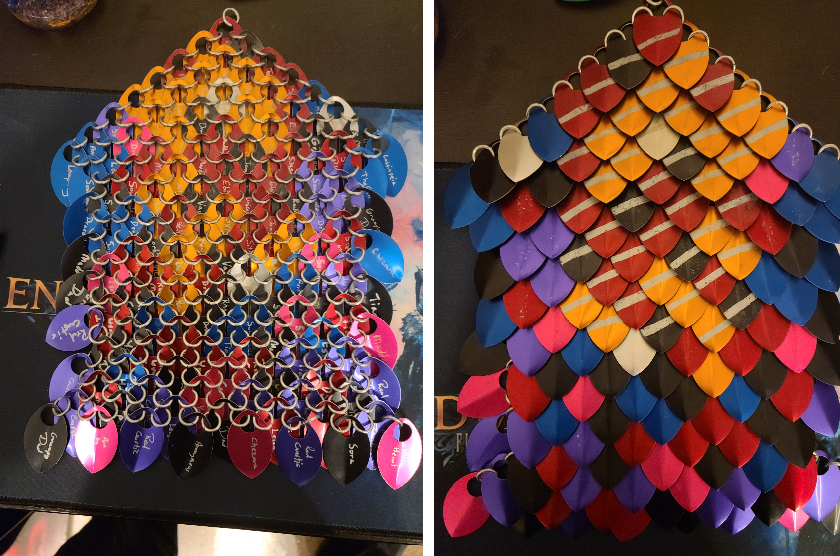 Ooh, that's a PRO TIP: Matching donations are such a great incentive- thanks for being so generous! Like you, we have a few gamers who will match donations (up to a certain amount) on their own page, or who have a friend or family member who might be willing to leverage a donation they were going to make anyway, for it to be used by the Extra Lifer as a match. When donors know that their gift will be matched- and essentially doubled- to support the cause, they are even more likely to hit that "donate" button!
Most of my Extra Life drives are met with a dollar for dollar match that I provide.
But sometimes the community will donate things like artwork or game codes which get incorporated into the drives. And we usually set some kind of obnoxious goal to get me into a black dragon onesie…
Well, whether it's a onesie or the scalemail, we're glad you're here, putting your creativity to work to help kids at BBCH! 🙂 What is it about Extra Life that makes you want to be a part of this?
I have a firm belief that children and parents should not be financially punished just because something outside of their control went wrong. I was taught that if you are both able and capable of helping those that need it, you should. It's really that simple to me.
And finally, what would you tell someone who is not sure about signing up for Extra Life?
Check the documentation of the site. Visit some streamers who support it. Find out their reasons. Every little bit helps, and there is no downside to doing it.
It's true! Every little bit helps, and it all adds up to make a big difference for the kids cared for at BBCH! You can be a part of that difference, by donating to DragynsLair's Extra Life page! Or, to learn more about Extra Life- or to sign up yourself- visit extra-life.org.