Gaming for a good cause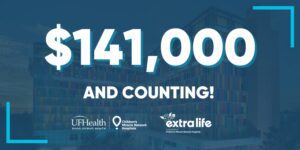 For more than a decade, Extra Life has united gamers in support of Children's Miracle Network Hospitals.
Since 2009, our Extra Life Shands gamers have picked up their controllers to benefit UF Health Shands Children's Hospital. This year on Extra Life Game Day, held Nov. 6, our 92 registered participants raised more than $141,000.
Video game developer Survive The Ark/Studio Wildcard accounted for $126,254. Its fundraising total ranked third among all players who participated on Game Day. Including this year, Survive the Ark's historical fundraising total surpassed $600,000 for UF Health Shands Children's Hospital.