Level Up for the Kids With a Corporate Extra Life Team!
What is Extra Life?
Extra Life, a gaming marathon and digital fundraiser, brings thousands of people together to raise funds and awareness in support of Children's Miracle Network Hospitals. Since its inception in 2008, Extra Life has raised more than $14 million for local CMN hospitals. In the Bay Area, Extra Life participants play to support the young patients treated at UCSF Benioff Children's Hospitals in Oakland and San Francisco.
You mean I get to play games at work while helping local kids? Game on!
Extra Life can be a great team building opportunity for groups of colleagues who want to come together and make a difference for their local Children's Hospital while having fun and playing games at the same time! Extra Life is an opportunity for a company or organization to:
Enhance employee morale
Encourage teamwork
Support employees whose lives have been touched by a Children's Hospital
It's simple to organize a corporate team. We provide materials and guidelines along the way to ensure your success!
Building your dream team:
Designate a "Team Captain(s)" who will be the point person for your Extra Life efforts. This person will also be responsible for communicating with your Hospital Program Director. We suggest hosting an internal team kick-off  to build excitement about Extra Life. Use internal chat groups or list serves to spread the word about your company's involvement.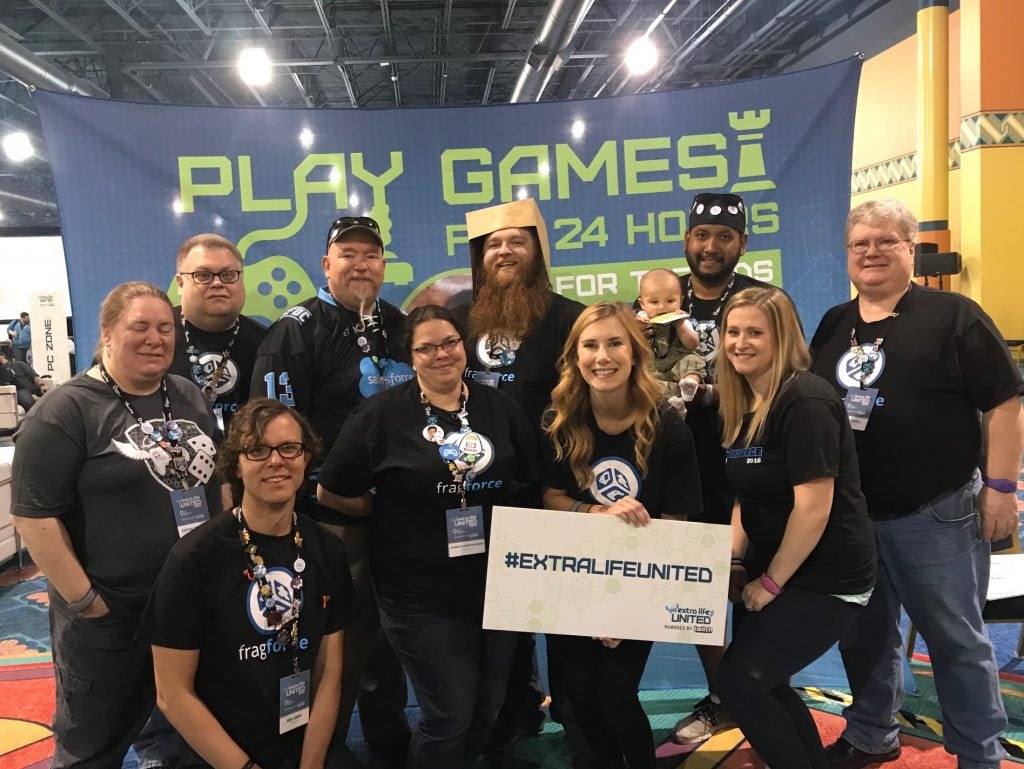 "The idea of being able to gain a few extra volunteer hours (while doing something I spent far too much time doing anyway), was what initially intrigued me. However, after joining Fragforce and touring UCSF Benioff Hospital, I was awestruck at seeing firsthand how much Children's Miracle Network and Extra Life do to help these kids, and how our fundraising directly empowers them."

– Ben Gray, Salesforce.com, Software Engineering
Launch Your Online Fundraising Portal:
Each team will receive a digital team page where the team captain will be able to set a team goal and edit the text donors will see. As individuals register under the team page they have the opportunity to select their local Children's Hospital and customize their own individual pages. Through the dashboard, the team captain has the ability to invite others to join their team via email. Pro tip: Download the Extra Life Recruitment App and use it to register members of your team on the go! Sign up for extra life at https://www.extra-life.org/
Planning Your Extra Life Event:
Whether large or small, your Extra Life event does not have to be on national game day in order to participate! Pick a date that works for your group and customize the event to best fit your audience. Events don't have to be 24 hours and streaming isn't necessary to achieve success in fundraising. Here are some tips we have seen be successful for corporate events:
Encourage a minimum fundraising goal in order to participate: Encourage all gamers to raise 50-100$ before game day. Some companies have special prizes day-of for participants who have already hit certain fundraising levels. Ex: Fundraise 100$ before noon? Lunch is on us!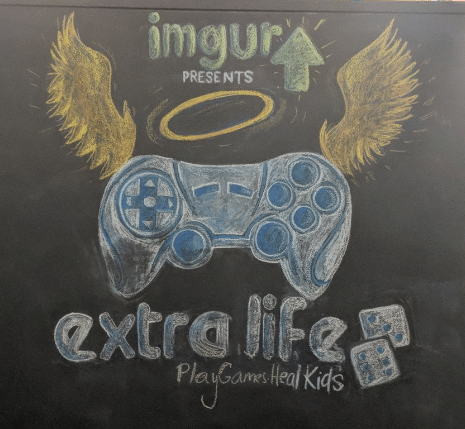 Connect your team members to the mission: Prior to your event, set up a tour at UCSF Benioff Children's Hospitals for your team to see the impact of their fundraising directly. Pick a local patient as your champion and share their story with your team and their communities. Reach out the hospital for a list of eligible champions.
Organize lead-up Fundraisers: In the weeks leading up to your Extra Life event organize small fundraisers around the office for those who may not be participating in the event. Some ideas include: host a casual jeans day for a 5$ donation, have a photographer take headshots for a suggested 20$ donation.
Matching Gifts: If your company participates in a matching gift program, be sure to encourage all of your colleagues who make a donation to submit their gift information to be matched! Don't leave free money on the table!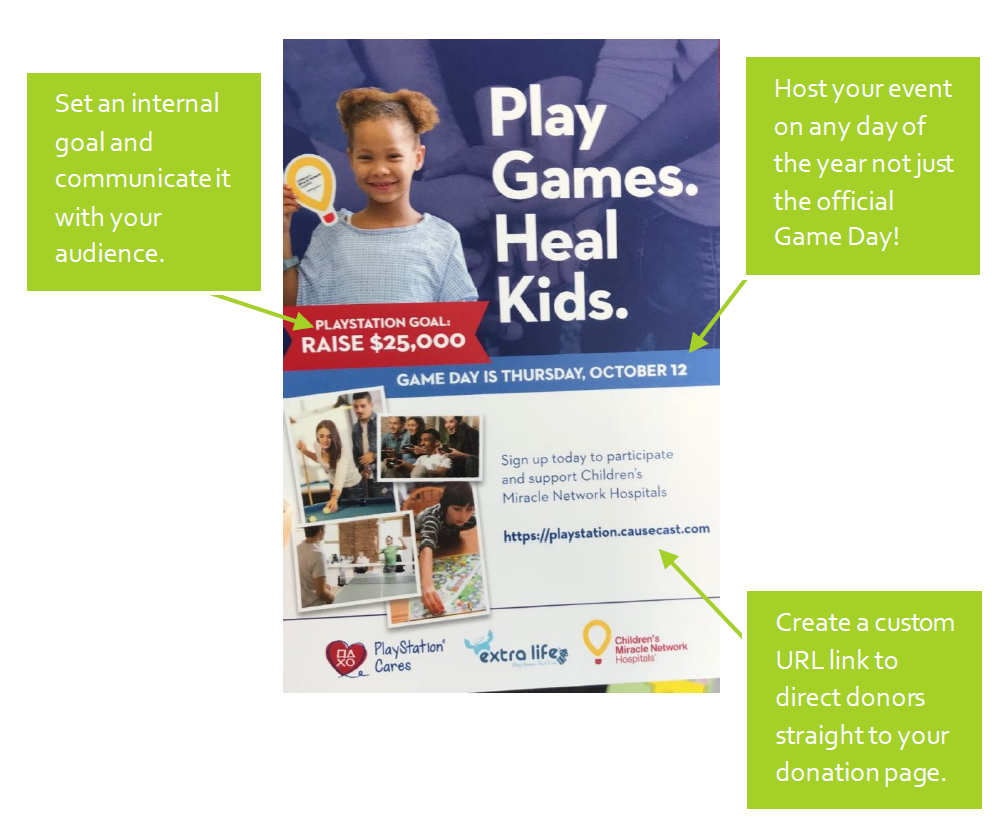 Support from UCSF Benioff Children's Hospital:
We know planning an Extra Life event can be a large undertaking but we are here as a resource to provide help and guidance!
 Collateral and Recruitment Materials: The Hospital can provide custom recruitment postcards with your organizations logo and team page with step-by-step instructions for registering. We can also provide fact sheets about the hospital, buttons, and other signage.
Game Day Survival Kits: All registered corporate teams who raise 1,000$ before game day on Nov. 2nd will receive a Game Day Survival Kit from the hospital with all kinds of treats and goodies to keep you going on Game Day!
Patient and Hospital Speakers: Work with the hospital to schedule a patient family or hospital staff speaker for your event. Events are often most successful if someone who works at the hospital, or someone who was treated there, is able to share their stories and highlight the importance of philanthropy.
Marketing your Event Externally: Every month UCSF Benioff Children's Hospital has the opportunity to send communications to all registered Extra Lifers in the area. Have an event that's open to the public? Let us know and we will blast it out to our community!
What are you waiting for? Get started with your Extra Life Corporate Team today! www.extra-life.org
Questions? Contact us to learn more about starting an Extra Life Corporate Team today!
Jackie Curran, jcurran@mail.cho.org, (510) 428-3873