SAVE THE DATE! EXTRA LIFE TABLETOP WEEKEND IS AUGUST 18-20, 2023
Tabletop Weekend is back, August 18-20, 2023!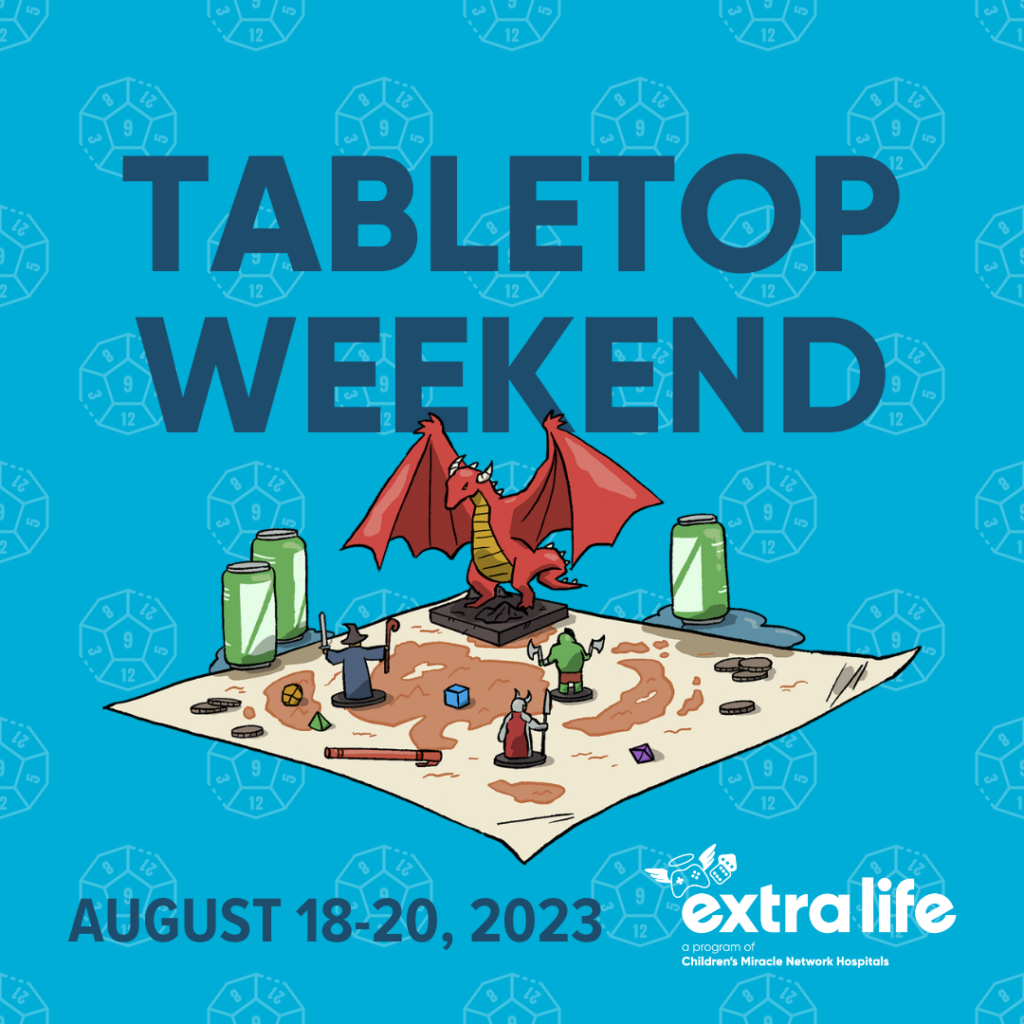 Extra Life has always been about supporting nonprofit children's hospitals through gaming. Many people support their local member children's hospital of Children's Miracle Network Hospitals by playing and streaming video games, but a not-insignificant portion of the Extra Life community does the same with tabletop gaming. Tabletop Weekend exists to celebrate the people who take up pen and paper, miniatures and dice, cards and tokens to raise money for the kids. We here at Extra Life endorse and encourage all gaming, whatever form that might take.
To that end, Tabletop Weekend approaches! This marks the seventh year Extra Life has set aside a weekend in August for our tabletop gamers to gather and play their favorite games to support local member children's hospitals.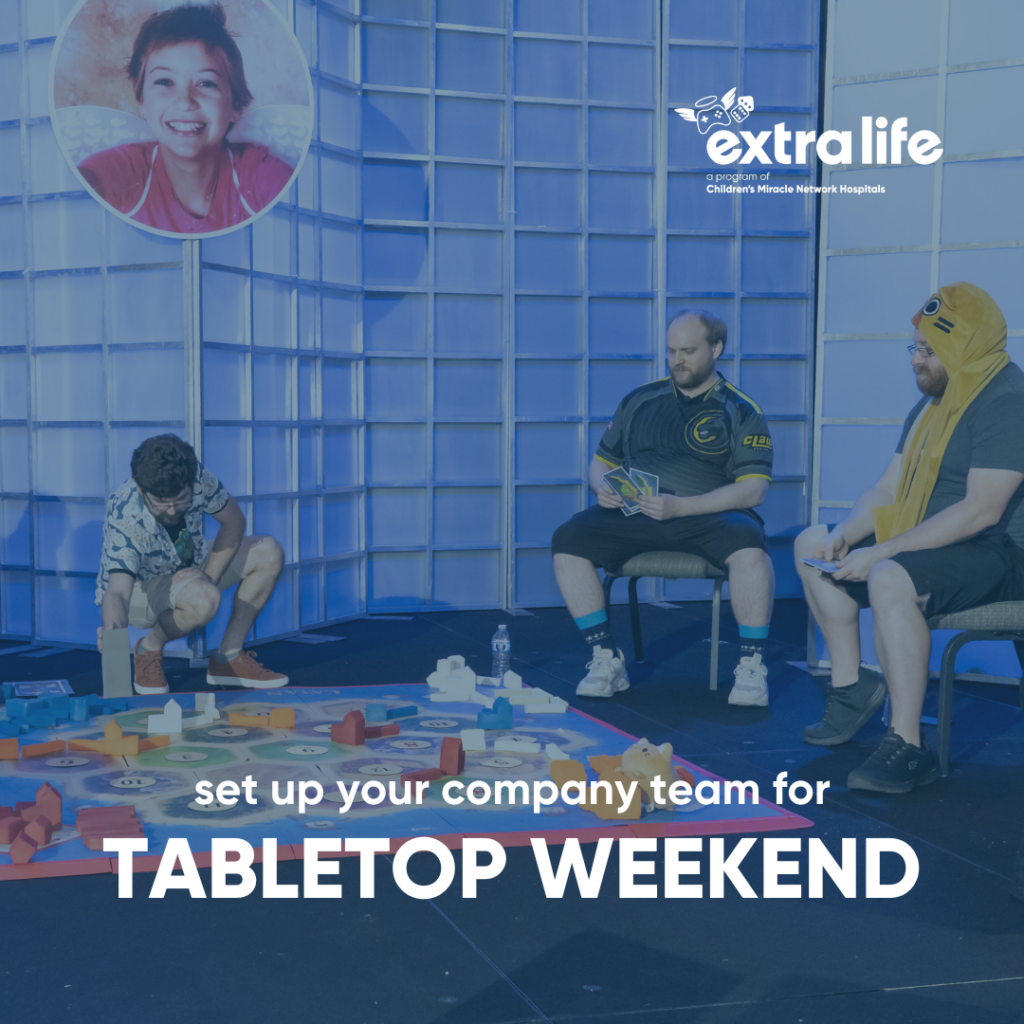 Are you ready to accept a quest just like you would in Dungeons and Dragons or other tabletop role-playing games? We want you to recruit your company and coworkers for an Extra Life Company Team! There are many benefits to starting a company team, but the best one is using your passion for games to bring more support to your local member hospital! Ask your company team, team members, or any other Extra Lifer to roll some dice, shuffle their deck, create a character, or however you decide to celebrate Tabletop Weekend! Set your Tabletop Weekend plans and goals, then share those with our team at @ExtraLife4Kids on Instagram, Twitter, and Facebook and the ExtraLife4Kids Discord!
Magic the Gathering? Dungeons & Dragons? Risk? Whatever you enjoy playing with your friends and family can be both fun and help those in need. The event also serves as a springboard to get people thinking about Game Day, which is coming up on November 4.
Download shareable and customizable social graphics to spread the news about your fundraising efforts.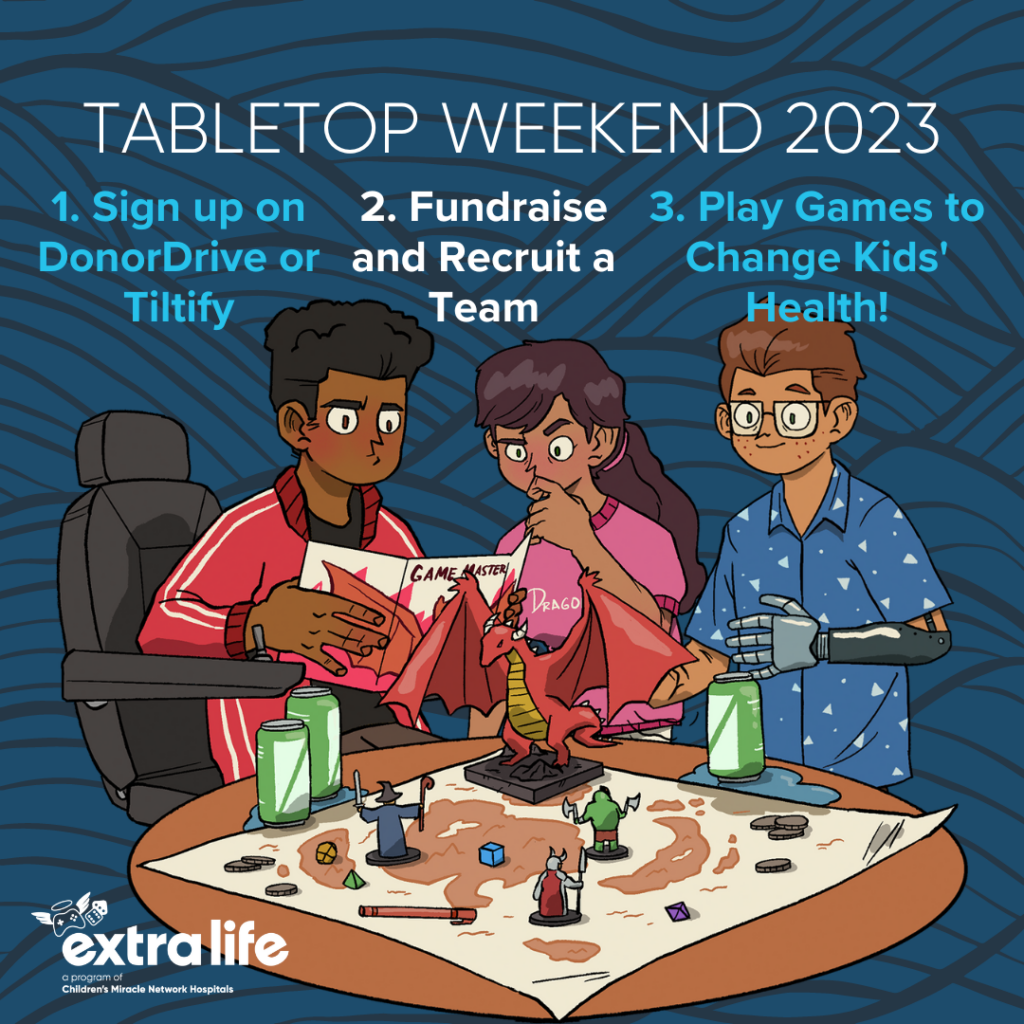 Interested in broadcasting your role-playing, board gaming, or rules-wrangling? Download our tabletop + Extra Life themed streaming overlays here.
Not able to join us this year? No worries! You can play games to change kids' health any day or time that works best for you. Game Day is on November 4 (or any day that works for you!). Stay in touch with us by following @ExtraLife4Kids on Instagram, Twitter, and Facebook and joining the ExtraLife4Kids Discord!
Sign up for Extra Life at extra-life.org or on Tiltify to change kids' health to change the future for children treated in member children's hospitals around the U.S. and Canada by playing games! Whether you're into board games, video games, crafts, etc., there is a place for you at Extra Life!