Tabletop Appreciation Weekend: August 19-21
Extra Life unites thousands of gamers around the world to play games in support of Children's Miracle Network Hospitals. Throughout the month of August, we celebrate #ExtraLifeTabletop, with the biggest celebration taking place during the annual Tabletop Appreciation Weekend, August 19-21, 2022.
Here's How You Can Help:
Sign up for Extra Life on DonorDrive or Tiltify
Fundraise and Recruit a Team to Join You
Play Games to Change Kids' Health to Change the Future!
Visit the Extra Life resource page for tabletop themed streaming overlays and graphics!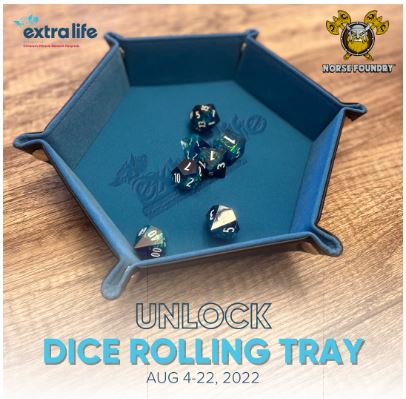 Get Ready to Roll!
Get ready to roll into Tabletop Appreciation Weekend with the new Extra Life Dice Rolling Tray! Whether you're new to Extra Life, or you've been collecting our custom dice sets for years, this fundraising incentive is a great way to elevate your gameplay. It's also a great conversation piece to help you solicit donations as you play games with friends and loved ones!
Sign up for Extra Life on DonorDrive or Tiltify
Raise $80 USD between August 4-22, 2022*
Claim your incentive
That's it! This dice rolling tray is available to all Extra Life participants (Classic and Platinum) who raise $80 USD between August 4-22, 2022! But don't stop there – we have other amazing incentives this year!
*Funds raised prior to August 4, 2022 will not count toward the $80 USD needed to unlock this incentive. Only funds raised from August 4-22, 2022 will go towards unlocking this incentive. One incentive per fundraising page. This rolling tray cannot be purchased. Dice are not included with this rolling tray. Find out more on our FAQ page.
Create a Character with the Extra Life Community!
Are you interested in Tabletop Appreciation Weekend, but you have never played a role-playing game like Dungeons & Dragons? Or are you a seasoned tabletop veteran, but looking for new inspiration for characters? Come join us in the Extra Life Discord to sign up for our Character Creation event happening between August 8 and August 14. We will host multiple sessions for players to create characters, discuss their character creation methods, and learn how to make a character for the first time! A schedule and sign-up form for timeslots will be available in early August 2022.