Boston Guild's Volunteerism at PAX East sets a new Extra Life Record
Last month, Extra Life's Boston Guild committed to run an awareness-raising booth at PAX East. Inviting the convention's attendees to pledge to play #ForTheKids in 2019, we were shocked and thrilled to see huge swaths of people make the commitment! With nearly 1,100 new registrants, this outreach effort brought in the largest number of new sign-ups for Extra Life at any event in the past two years.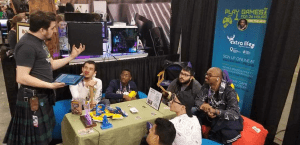 While we know that the Boston Guild would likely give of their time to support any Children's Miracle Network Hospital, their willingness to spend time at PAX East had the most direct benefit to their local Boston Children's Hospital; over 45% of the new registrants committed to support Boston Children's. However, pledges were made to also support 108 other children's hospitals across North America.
Thank you to all who gave of their time and energy, it paid off in huge ways!