Magic: The Gathering Unleashes My Little Pony Cards for Extra Life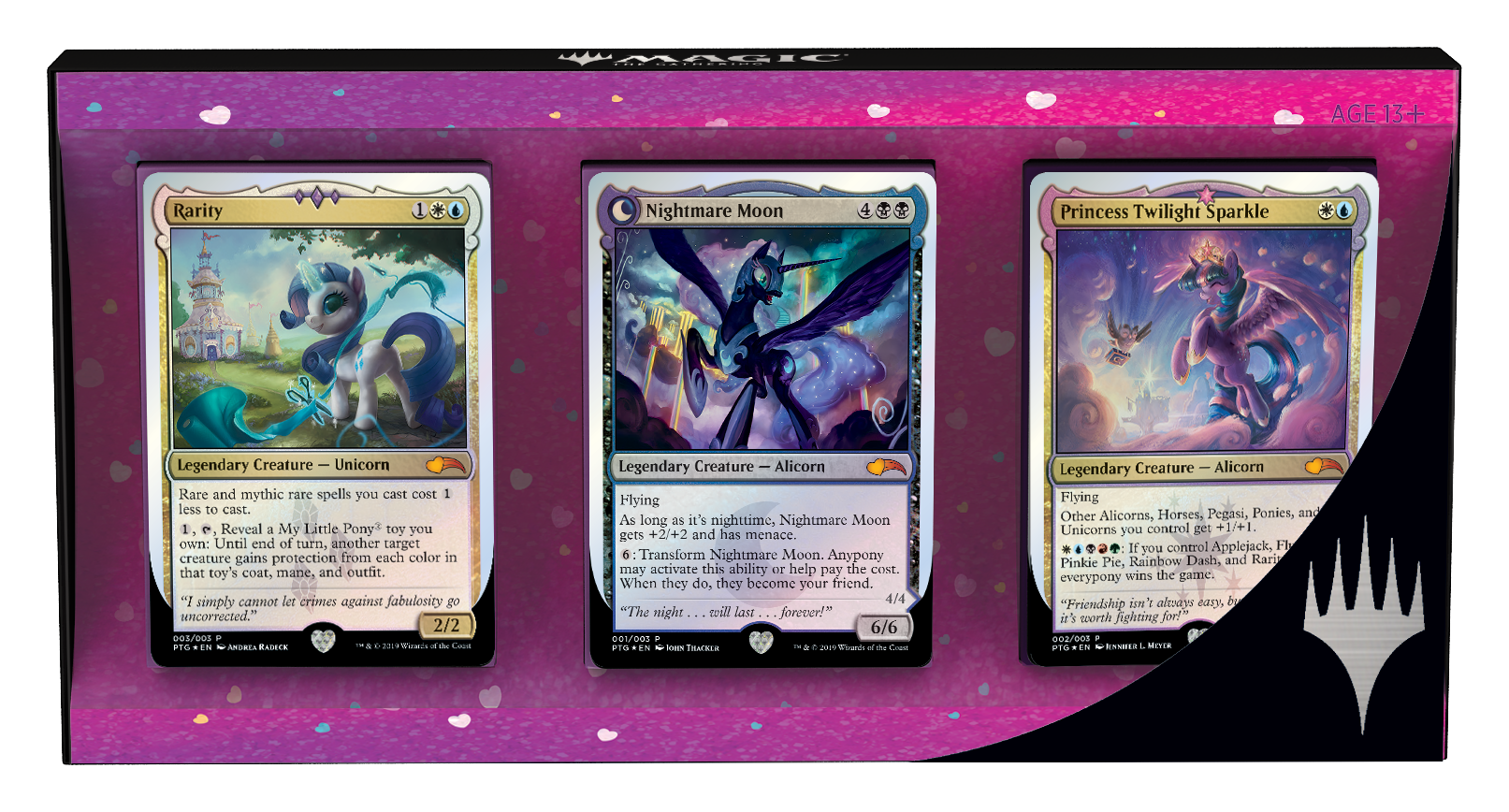 Wizards of the Coast has been a longtime supporter of all things Extra Life. This year, though, their Magic: The Gathering division has outdone themselves in a collaboration with Hasbro that resulted in official Magic cards based on several of the ponies from My Little Pony. These special cards will be packaged in a bundle and sold to benefit Extra Life from October 22- November 5 (or until they sell out!)
Ponies: The Galloping aims to provide a fun and comprehensive experience for Magic: The Gathering players. The package includes three Magic cards featuring some of the most recognizable ponies: Twilight Sparkle, Rarity, Princess Luna, and Nightmare Moon (the latter two being featured on opposite sides of the same card). Each Magic card features a silver border and specific in-game instructions. Notably, Twilight Sparkle contains a reference to other My Little Pony cards that aren't currently in the game… intriguing!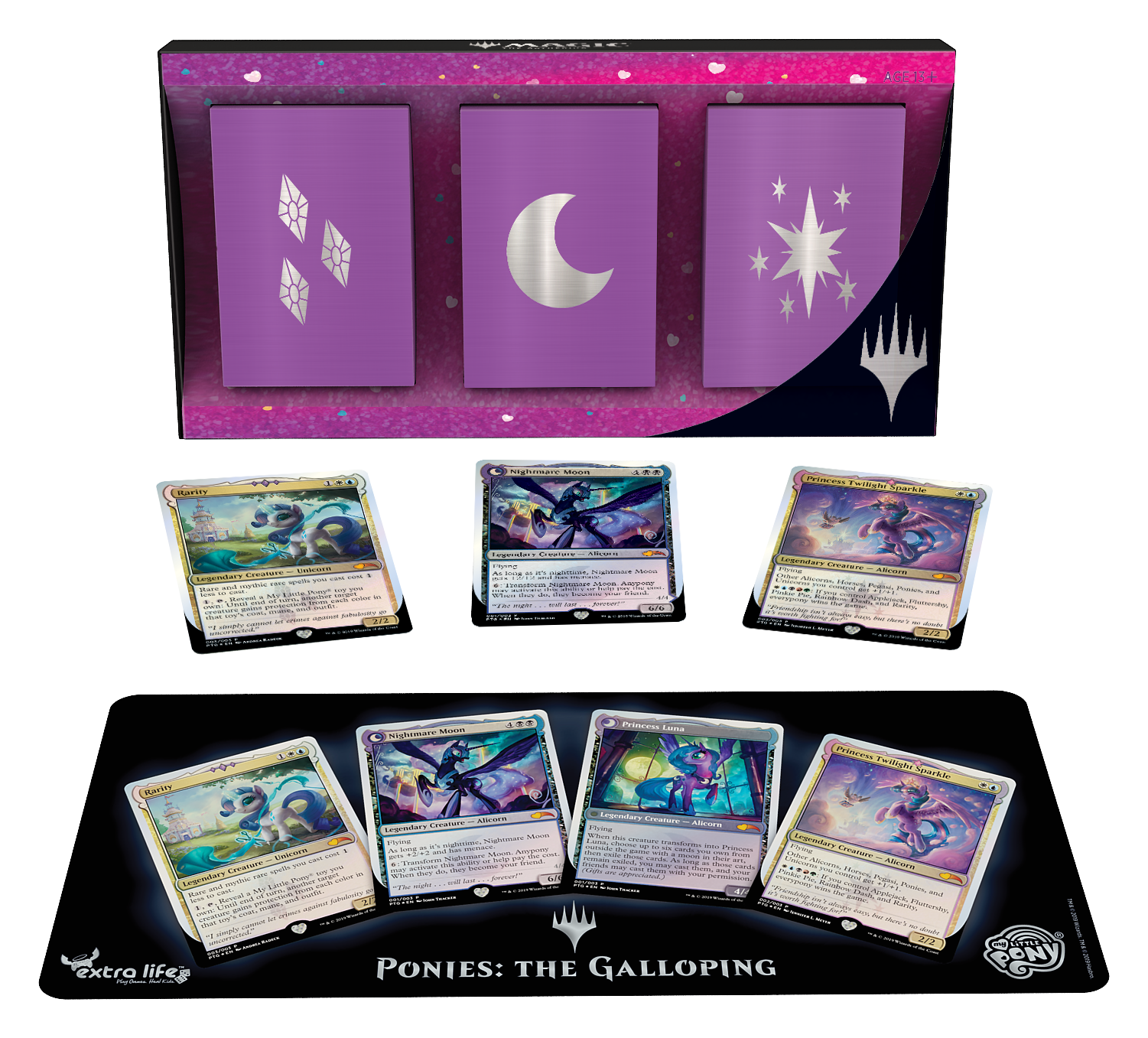 Magic players will be able to pick up the Ponies: The Galloping set through HasbroPulse.com during the limited offer. Each set will cost $50 USD, which might cause some hesitation even among fans. However, Wizards of the Coast has pledged to donate $30 USD for every set sold to Seattle Children's Hospital through Extra Life.
If that wasn't good enough already, Wizards of the Coast has teamed up with Ultra PRO to create a bundle of special Ponies: The Galloping playmats for either Magic: The Gathering gameplay or use as mousepads. The bundle includes three playmats modeled after the cards, meaning one will be doublesided to showcase Nightmare Moon and Princess Luna. The mats protect cards during gameplay and feature a slip-resistant backside so they aren't moving around while in use. The playmat bundle will also be sold on HasbroPulse from October 22 through November 5 and will cost $100 USD, $80 USD of which goes to Extra Life.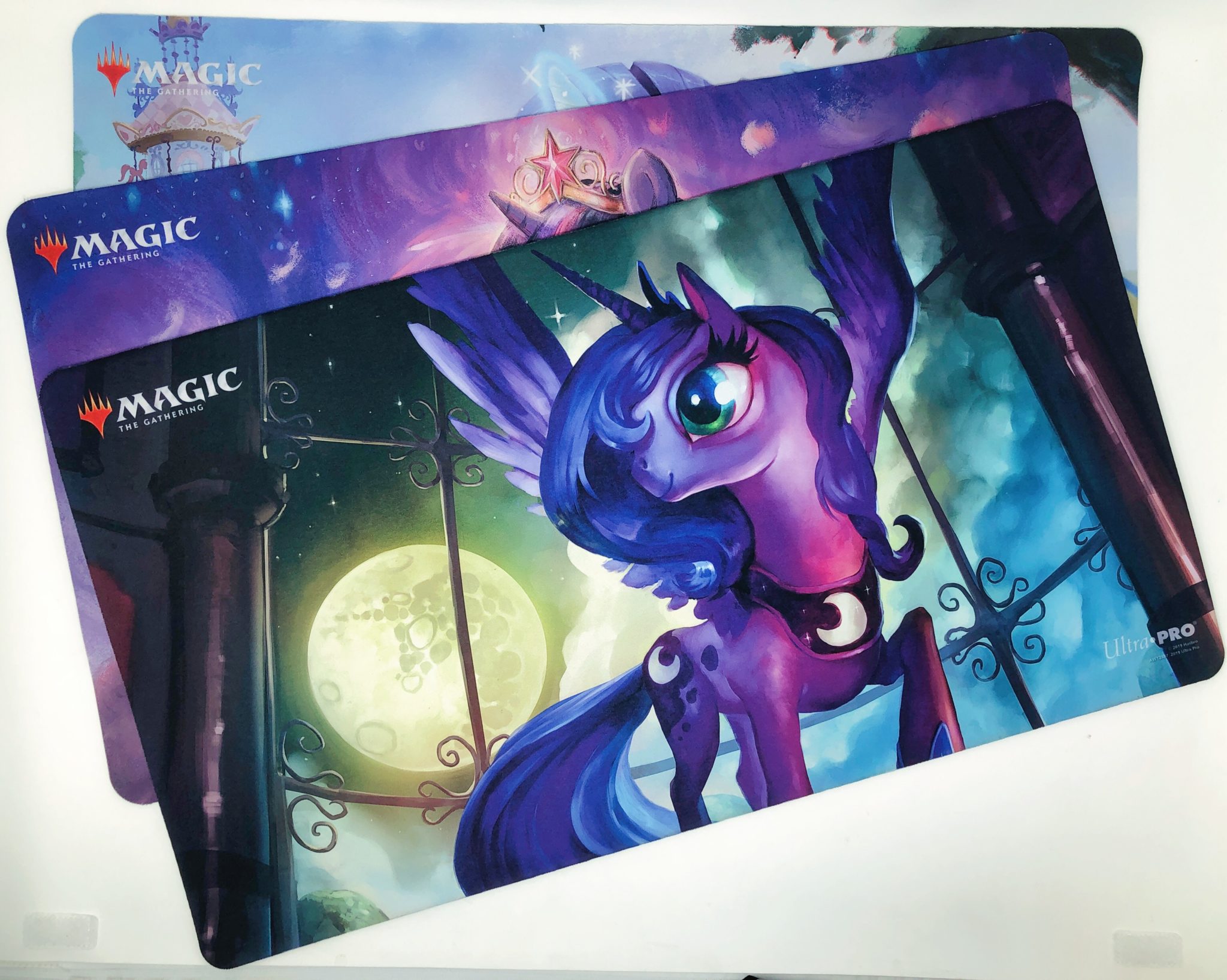 Finally, Wizards of the Coast will be donating the proceeds of sales from My Little Pony (and a flippin' rad Extra Life logo) sleeves on MTG Arena, their digital version of the card game. Additionally, during the official Wizards of the Coast stream on Game Day, those who donate $20 USD will be given codes for one of each in-game rewards:
1 random alternate-art land card (chosen from among Blood Crypt, Temple Garden, Godless Shrine, Watery Grave, Hallowed Fountain, Sacred Foundry, Overgrown Tomb, Steam Vents, Stomping Ground, and Breeding Pool)
1 nontradeable Ajani, Extra Life Mascot avatar
1 nontradeable Twilight Sparkle, Princess of Magic and Friendship avatar
The Game Day stream during which this $20 USD offer is valid runs on November 2 from 3pm – 12pm. The stream will feature prominent influencers in the Magic community who have agreed to take part in a series of mysterious challenges. Wizards of the Coast teasingly says that if you want to learn more, you'll have to tune into the stream on Game Day.
Don't forget to sign up for Extra Life to help sick and injured kids in hospitals around the US and Canada by playing games!