Announcing the Newest Extra Life Fundraising Incentive
We're so incredibly excited to announce that we have a brand-new fundraising incentive launching soon.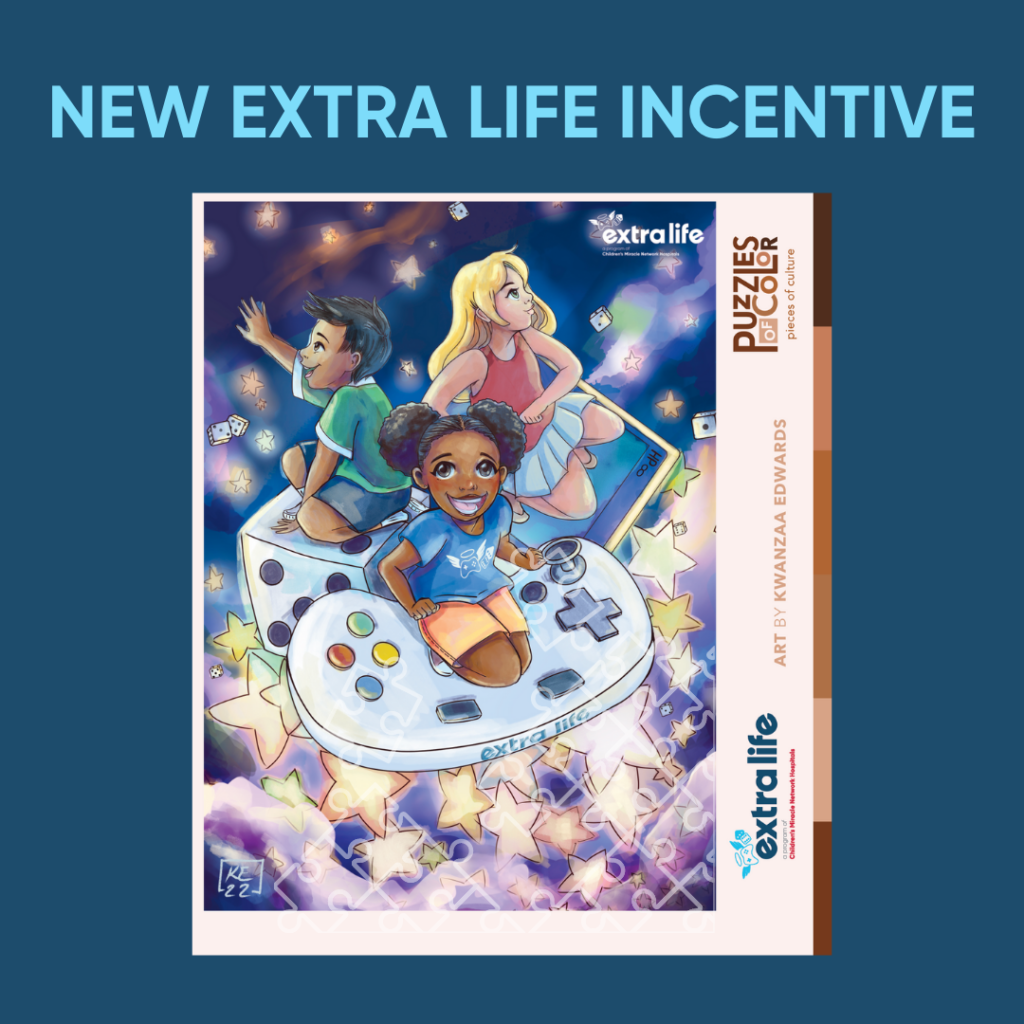 Starting June 1, 2022, all Extra Life participants can unlock the first-ever Extra Life puzzle! When you raise $200 USD on or after June 1, 2022, the first 950 Extra Lifers will be able to unlock an incredible 1,000-piece Extra Life themed puzzle from our friends at Puzzles of Color. (Fundraising done prior to June 1, 2022, will not go towards the $200 USD unlock — once all 950 puzzles are redeemed, you will not be able to receive a puzzle.).
We are so excited to be partnering with Puzzles of Color, a black-owned family business run by brother-sister duo William and Ericka. They have been doing puzzles as a family since they were in elementary school. They started their business after noticing two distinct problems, (1) the imagery in puzzles often did not represent who they were and (2) when they liked a puzzle, they couldn't find a frame that would fit them. So, they decided to take matters into their own hands and create a puzzle company that addressed both issues. Their puzzles, like the ones you can unlock, are frameable pieces of art created by artists of color. Learn more about our puzzle artist, Kwanzaa Edwards, and Puzzles of Color.
Learn more about Puzzles of Color and its mission on YouTube:
We know many community members will want to puzzle right now, we're working on getting all the corners corner pieces in the boxes, since we all know that is the best first task to accomplish when receiving a puzzle. We expect to find all of those shortly and get those shipments later this summer. We will send updates via email and share on social and in Discord to keep you all updated — thank you in advance for your patience.
We know that these pieces of art will be worth the wait and a great coffee table addition or activity to do with friends/family! Happy puzzling.
Do you have questions? We have answers! Check out our FAQ or ping us in the @ExtraLife4Kids Discord.
Sign up for Extra Life on DonorDrive or Tiltify to change kids' health to change the future for children treated in member children's hospitals around the U.S. and Canada by playing games! Whether you're into board games, video games, crafts, etc., there is a place for you at Extra Life!