Company Team Spotlight: Alarm.com
Do you work for a company? Do you like to play games? Do you have a few co-workers who also like games? If so, you've got all the right ingredients to start a company team for Extra Life! But don't take our word for it, check out this quick Q&A with Jed, the Team Captain for one of our top company teams, Alarm.com.
Q: Tell us about Alarm.com
Alarm.com is the award-winning smart home and business security platform that millions of customers depend on every day. 20 years ago, we reinvented the security sytem to protect you better from intruders. We've been reinventing it ever since, creating a service that protects home and business owners worldwide, including our own friends and families.
Q: So, you aren't a "gaming" company, and you start started an Extra Life team. How did you make that connection?
I was "convinced" by some friends to participate in Extra Life back in college (it was an easy sell), and it only felt natural to kick up a team once I started professional work. There were already several chat channels for various types of gaming communities, so recruiting was quite easy. We may not be a gaming company, but we definitely have people who like to play games that work here.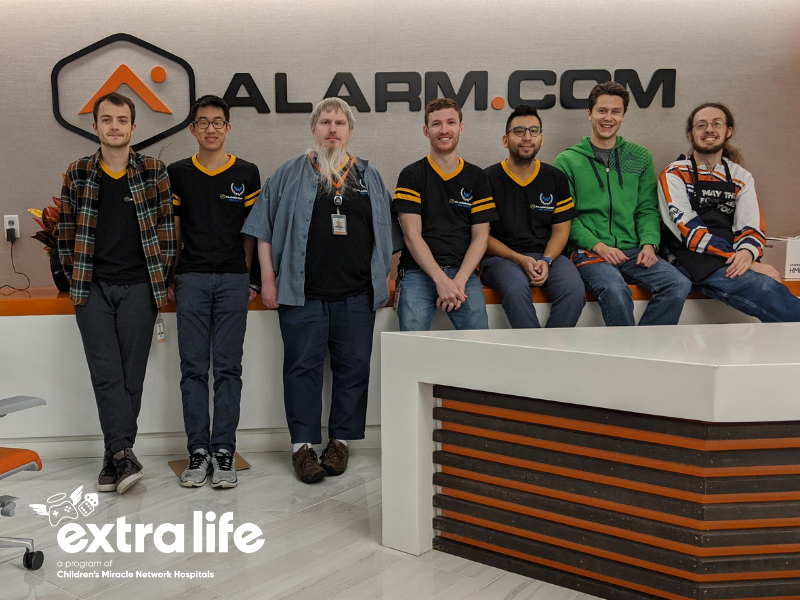 Q: What does your company team do to fundraise for Extra Life?
We started before covid, so our first couple Game Days were in-person in one of the conference rooms of our headquarters. There, we had pizza parties, tournaments, speedruns, brunch parties, group yoga sessions (to help us stay awake), and epic Jackbox parties to close out the marathon.

Now that most of our participants have moved to our satellite offices, most of the in-person activities had to be cut, but our streams still look largely the same. We leverage things like donation matching, donating to add challenges to speedruns, donation milestone events, and, when we can get our hands on some merch, auctions to support the charity!

Q: What advice do you have for someone working at another company, wondering if they should start an Extra Life team?
Our advice to anyone starting up a new corporate team would be to start small, and don't try to force your co-workers to all participate the full 24-hours. Create a team schedule or let them participate at home with their own fundraising or live stream. Let them know that even a short stream can make a big difference.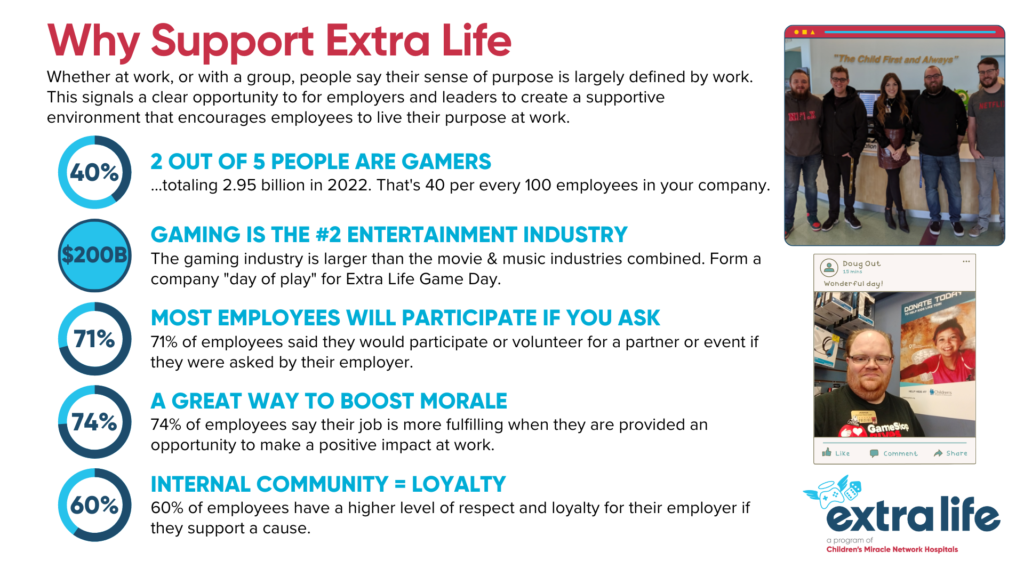 Q: What is the value of an in-person event for your company team?
We organized a LAN party, which is where some of our best memories were made.
A LAN party is a social gathering of participants with personal computers or compatible game consoles, where a local area network connection is established between the devices using a router or switch, primarily for the purpose of playing multiplayer video games together.
The in-person experience solidified the camaraderie and a true sense of community within the company. This is why our company team has come back year after year.

Q: How has your employer supported your team?
Corporate donation matching has made a huge difference for us. We also got some themed swag, food/meals provided, and corporate advertising. These things make a huge difference in team morale because we feel like leadership truly respects our desire to do Extra Life to help local kids.