Extra Life Gamers Raised More than $7,500 for Valley Children's on Game Day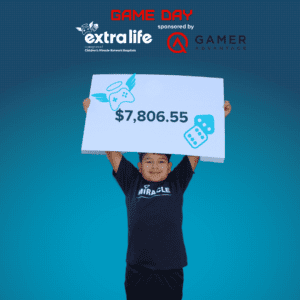 During the annual 2021 Game Day weekend, November 5-8, gamers from around the world united together to raise money to heal kids. Extra Life, a program of Children's Miracle Network Hospitals, challenged gamers to play games for 24 hours straight while raising funds for their local children's hospital.
Valley Children's Hospital is extremely proud to announce that local gamers raised $7,806.55!
We would like to give special recognition to players that raised $250, $500, & $1,000.
Please give a round of applause for:
Congratulations, gamers!
We would also like to highlight All You Can Eat Gaming as the first place team, Crazy Squirrel for hosting a safe in-person event, Gamer Advantage for their local sponsorship and Jason Luna for hosting all of our gamers on our Extra Life Fresno Twitch channel.
Thank you again to all those who participated and donated.