Save the Date! Extra Life 2021 Dates
While you can support Extra Life any day of the year, there are a few key dates to keep in mind if you'd like to celebrate and activate your fundraising with the community at large. First up: Extra Life United.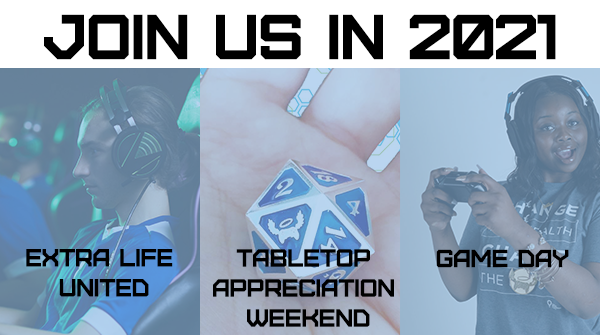 Extra Life United will be held April 23-25, 2021. It is a virtual gathering of charity gamers where you can game in online tournaments to unlock funds for your local Children's Miracle Network Hospital, connect with other charity streamers who care about the same things you do! Stay tuned for more updates on how to register.
Tabletop Appreciation Weekend will be August 21-22, 2021. Extra Life Tabletop Appreciation Weekend exists to celebrate the people who take up pen and paper, miniatures and dice, cards and tokens to raise money for the kids. We here at Extra Life endorse and encourage all gaming, whatever form that might take. More details to come!
Game Day will be held on November 6, 2021. Join us for our annual Game Day where thousands of gamers like YOU execute their fundraising activities. Whether you're streaming, playing board games, making art, or just plain asking your friends and family to donate, Game Day is whatever you want it to be!
---
Don't forget to sign up for Extra Life to change kids' health and change the future for children in hospitals around the US and Canada by playing games!