Unlock our Summer Fundraising Incentive!
We are so excited to announce that Extra Life participants who raise $150 USD between August 1, 2021 — September 18, 2021, will be able to unlock an exclusive HeartBeat Dice incentive!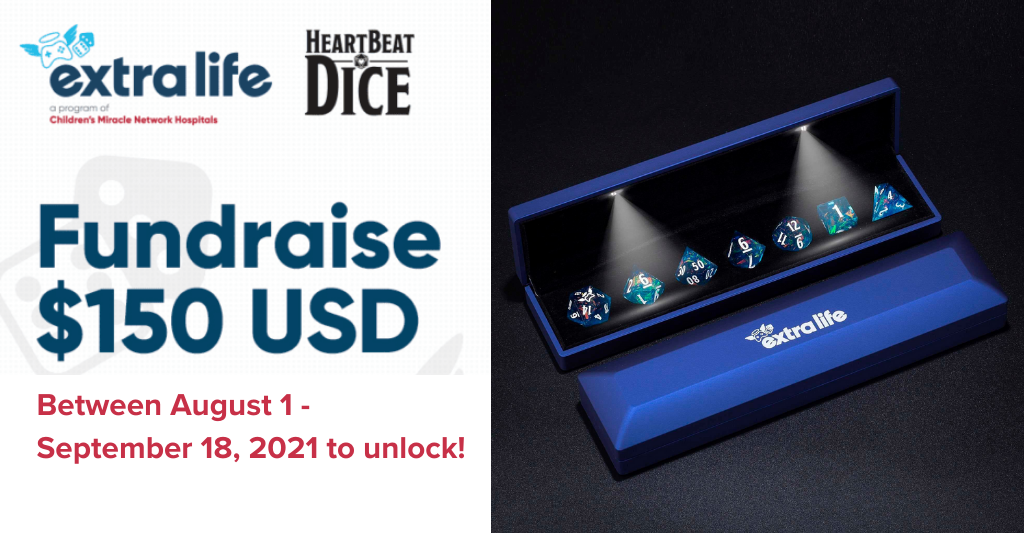 Check out the below information on everything you'll need to know about this awesome limited incentive:
What do I need to do to unlock the Extra Life dice set?
Sign up for Extra Life
Raise $150 USD for your local children's hospital between August 1, 2021 — September 18, 2021, (funds raised outside of this timeframe do not count towards the $150 needed to unlock the incentive)
Redeem your dice set via the redemption email we'll send you
After your dice set arrives, get your friends together (safely) to play some great tabletop role-playing games!
Do I have to pay for shipping?
Nope! When you enter your unique code, the code will reduce the cost of the item to $0. All you need to do is enter your shipping information and check out. Shipping should start the second week of August.
Is it $150 USD raised during August only, or $150 USD total for the year?
You'll need to raise $150 USD between August 1, 2021 — September 18, 2021, to unlock the dice set!
Do I have to upgrade to Platinum to unlock the dice set?
Nope! ANY of our amazing participants can unlock this incentive from August 1, 2021, and September 18, 2021
Will the dice set come with case?
Yes, you will receive seven dice (D20, D12, D10, D8, D6 D4, D100) that will come in an exclusive Extra Life branded carrying case!
How do I redeem my dice set?
Once you've unlocked the incentive, you will receive an email from us with steps to redeem. Once that's finished, it can take 2-3 weeks for your incentive to make its way to you.
I unlocked it, but I never got an email! Help!
Sometimes the redemption emails can be filtered to your junk or spam folders. Check there first. If you still don't see it, send an email to  support@extra-life.org and we'll help!
Can I receive more than one dice set and give them to all my friends in my D&D campaign?
Unfortunately, we can only distribute one dice set per participant!
Can I just buy it instead?
The incentive is only available to participants who have signed up and raised funds for their hospital. We won't stop you from donating $150 USD to yourself to unlock this incentive if that's the way you want to earn this.
I redeemed my incentive, but it's been over 3 weeks and I still haven't received it.  Help!
Oh geez! Send an email to  support@extra-life.org and we will check out what happened to it. We have a few mail gremlins that give us issues from time to time.
When is the next incentive?
We are planning on having another incentive sometime between October-December. Make sure to check in on social media and the extra-life.org/incentives site to see more info.
---
Don't forget to sign up for Extra Life to help sick and injured kids in hospitals around the US and Canada by playing games!